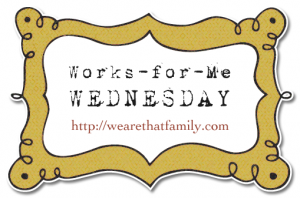 So, first thing, I'll have to apologize (It's Karen; I'm your SiS host on Wednesdays) for leaving you behind for two weeks. Life intervenes and one-ups blogging sometimes, even
Works for Me Wednesday
.
This time it was vacation.
That worked really well for me.
My daughter enjoying the beach :)
While I don't have a fresh tip today, I
do
have a compilation of past WFMW tips -- we used a few of them during vacation. I used my
packing tip
when I pulled out the bathings suits and fun summer outfits we
bought last year on clearance
, and got our things together. And we even brought snacks like goldfish and cheez-its and portioned them out
school-lunch style
to carry to the beach with us each day. I even did a little outlet shopping for next summer's benefit!
That
Works for Me
. I'll try to have something new for you next week!